Ordering preparations
Due to agricultural considerations it is preferable to make your own preparations, familiar to your farm so to say. For those who cannot or want not to do so, there is a possibility to order preparations from us.
You can also order starting (raw) materials from us if you wish to make your own preparations.
Since july 2013 De Groenen Hof has taken over production and sales from the dutch Biodynamic Association, preparationsgroup of volunteers.
To order, please use our ordering form. You will receive an invoice with the products.
The preparations are packed inside plant based cellophane bags.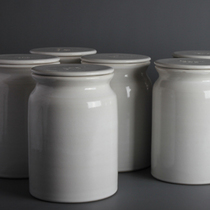 Preparations are kept in dry peat. A wooden container-box together with fitting earthenware pots can be obtained and directly ordered.
Meubelmakerij Beeld en Ambacht
The dutch Biodynamic Association published an illustrated manual on making your own preparations. This can be ordered directly from this Association (in Dutch).